PIPE THRUSTER
The Thruster is a versatile piece of equipment that can be customised to push pipes ranging in size from 24 to 36 inches using the same clamp. Larger pipes can be accommodated by installing a customised pipe clamp.2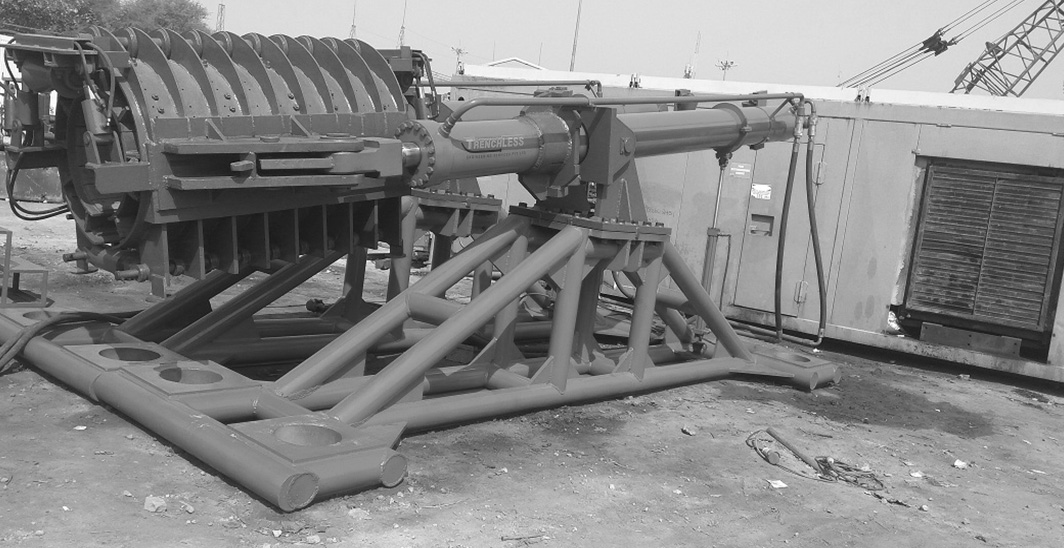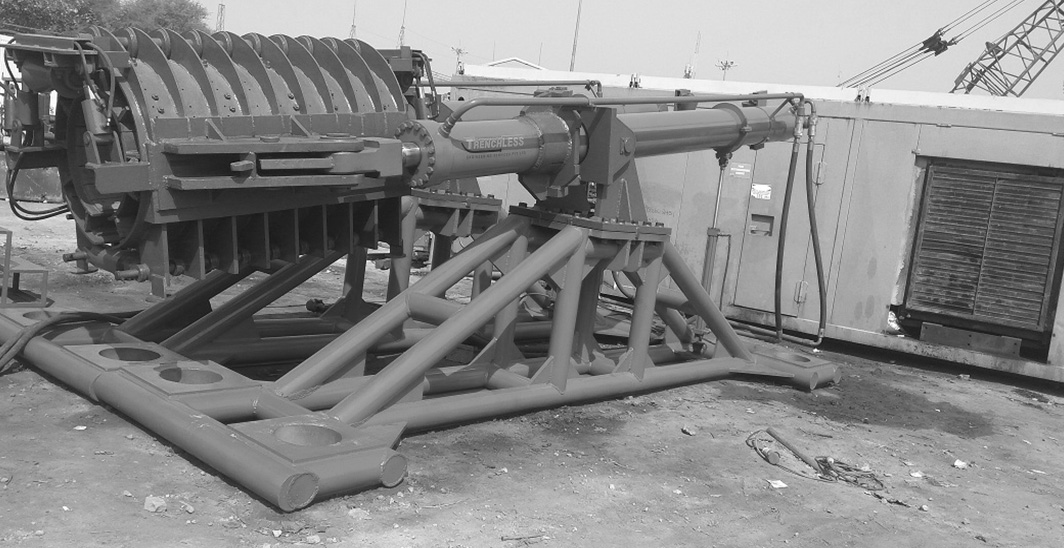 ENGINEERED, DESIGNED AND FABRICATED THRUSTER COMPLETELY IN-HOUSE
ONLY CONTRACTOR TO OWN 3 PIPE THRUSTERS
The Thruster's unique features make it an indispensable tool for pipe-pushing operations. It can exert a variable load of up to 500 tons on the pipe from the pipe side pushed into the ground, making it ideal for tight pull conditions.
The Thruster can also retrieve the pipe in case of stuck pipe conditions, allowing for the hole to be reconditioned and the pipe to be pulled.
One of the key advantages of the Thruster is that it can be used individually or in conjunction with a rig on the other side. This augments the total pull force while reducing the risk of downhole tooling breakage by dividing the force between the drill pipe and the product pipe.
With its versatility and unique features, the Thruster is an essential tool for pipe-pushing operations - enabling efficient and safe installation of pipelines in a wide range of ground conditions.
| PIPE THRUSTER MACHINE FLEET | QTY |
| --- | --- |
| 500 Ton | 3 |
MINIMISING THE USE OF MARINE EQUIPMENT IN SHORE APPROACHED HDD PROJECTS.
PULLING THE PRODUCT PIPE OUT OF THE BOREHOLE IN CASE OF DIFFICULTIES WHILE PULLING.
PUSHING THE PIPE WITH THE PIPE THRUSTER FROM RIGSIDE WHEN THERE IS NO AVAILABLE LAND ON THE PIPE SIDE.
REDUCING THE BENDING MOMENT ON THE PRODUCT PIPE DURING THE INSTALLATION PROCESS.
ALLOWING THE INSTALLATION OF LONGER AND HEAVIER PIPES IN A SINGLE PULL.
ENABLING INSTALLATION IN DIFFICULT GROUND CONDITIONS SUCH AS ROCK OR HARDPAN.
FACILITATING THE RE-PULLING OF THE PIPE STRING IN CASE OF FAILURES OR DAMAGE.
PROVIDING ADDITIONAL SUPPORT TO THE PRODUCT PIPE DURING PULLBACK.