WHY US
Specialising in large-scale river crossings, canal and creek installations, and wide-diameter highway and expressway crossings, we excel in overcoming challenging terrains such as hard rock, soft rock, and sandy or swampy conditions.
Our expertise extends across various sectors, including Oil and Gas, Water and Sewer, Power, Telecommunications, and Offshore Windmill farms, enabling us to undertake diverse projects with utmost proficiency.
TESPL takes pride in offering Trenchless services through any stratum, covering distances beyond 3000 meters in a single shot and depths to 140 meters.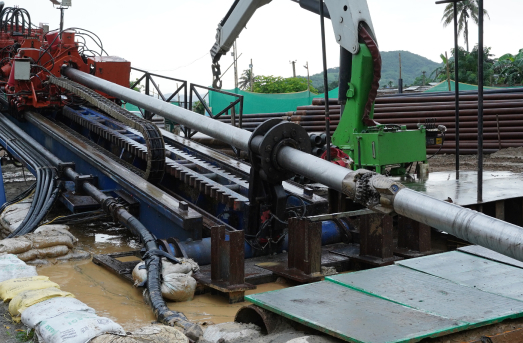 In addition, our comprehensive range of services includes Auger Boring, Pipe Jacking, Microtunneling, and Guided Boring Machines, ensuring we cater to a wide spectrum of underground utility requirements. Setting a remarkable precedent, we hold the distinction of being the first Indian company to successfully complete multiple river crossings exceeding 2000 meters in length, employing Intersection technology.
Experts in Design, Engineering and Turnkey installations.
Two Decades of Trenchless Experience.
Worldwide exposure (Bangladesh, India, Israel, Madagascar, Nigeria, Taiwan, UAE & Bahrain).
Rich experience in drilling in all kinds of soil strata viz. Sand, Silty clay, Fractured and Hard rock formation, Boulder & Gravels.
Nominated for GOLD standard award in INNOVATIVE TECHNIQUES applied to complete a project from China Petroleum Corporation (CPC) / Chambers of Commerce, Taiwan.