Trenchless was tasked with installing a pipeline for BPCL from Mumbai to Manmad, involving the drilling of an 18" x 2,600-metre and 6" x 2,600-metre pipe using the HDD and intersection approach. One of the major challenges was the requirement to cross Vashi Creek in Mumbai while minimising the environmental impact, which called for careful planning and execution.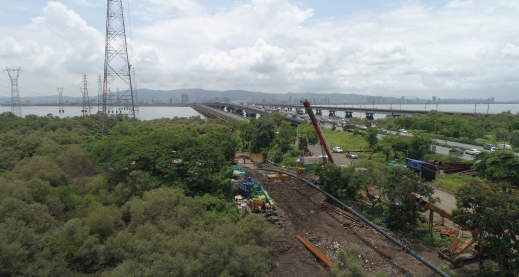 Challenges:
Trenchless had to use the intersection technique to ensure a safe and secure crossing of Vashi Creek, which added complexity to the project.
The project was located in a mangrove area that is environmentally sensitive, requiring additional precautions to preserve the local flora and fauna.
The hard rock geology in the area made it difficult to pump cuttings out of the hole, leading to additional drilling challenges.
Limited space for laying coils for the survey presented additional logistical challenges, requiring careful planning and coordination between team members.
Despite these challenges, Trenchless was able to complete the project on time and within budget, delivering a high-quality pipeline that met the needs of the client –BPCL with minimal environmental impact
Equipment Used:
DD-1100 and Laney